24 Hour Stream – March 25-26 2023
On December 18 2022, Blenderbat hosted a charity stream for the Arizona Bat Rescue, raising over $1000. Little did she know that this wonderful stream would cause lead her to great strife a wonderful adventure: streaming for 24 hours and eating the world's best pizza.
Come join us on twitch from March 25 at 6:00pm to March 26 6:00pm PDT for games, art, food and more.
Have a sugesstion? Send it here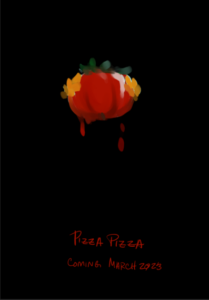 Schedule
All times are PDT (UTC-7)
| 6:00:00 PM | Welcome/ intro to the suffering |
| --- | --- |
| 6:15:00 PM | Little Ceasers Pizza Hour |
| 6:30:00 PM | Little Ceasers Pizza Hour |
| 6:45:00 PM | Little Ceasers Pizza Hour |
| 7:00:00 PM | Owo's Animal Crossing Adventure |
| 7:15:00 PM | Owo's Animal Crossing Adventure |
| 7:30:00 PM | Robot Pilot /valheim setup |
| 7:45:00 PM | Robot Pilot /valheim setup |
| 8:00:00 PM | Valheim |
| 8:15:00 PM | Valheim |
| 8:30:00 PM | Valheim |
| 8:45:00 PM | Valheim |
| 9:00:00 PM | Valheim |
| 9:15:00 PM | Valheim |
| 9:30:00 PM | Valheim |
| 9:45:00 PM | Valheim |
| 10:00:00 PM | Hally's Bat funtime Hour |
| 10:15:00 PM | Hally's Bat funtime Hour |
| 10:30:00 PM | Hally's Bat funtime Hour |
| 10:45:00 PM | Hally's Bat funtime Hour |
| 11:00:00 PM | Special Guest |
| 11:15:00 PM | Special Guest |
| 11:30:00 PM | Special Guest |
| 11:45:00 PM | Special Guest |
| 12:00:00 AM | Special Guest |
| 12:15:00 AM | Special Guest |
| 12:30:00 AM | Special Guest |
| 12:45:00 AM | Special Guest |
| 1:00:00 AM | FTL |
| 1:15:00 AM | FTL |
| 1:30:00 AM | FTL |
| 1:45:00 AM | FTL |
| 2:00:00 AM | FTL |
| 2:15:00 AM | FTL |
| 2:30:00 AM | Making robots |
| 2:45:00 AM | Making robots |
| 3:00:00 AM | Making robots |
| 3:15:00 AM | Making robots |
| 3:30:00 AM | Nintendo Multiplayer Classics |
| 3:45:00 AM | Nintendo Multiplayer Classics |
| 4:00:00 AM | Nintendo Multiplayer Classics |
| 4:15:00 AM | Nintendo Multiplayer Classics |
| 4:30:00 AM | 7 Days to Die |
| 4:45:00 AM | 7 Days to Die |
| 5:00:00 AM | 7 Days to Die |
| 5:15:00 AM | 7 Days to Die |
| 5:30:00 AM | Screen Cheat |
| 5:45:00 AM | Screen Cheat |
| 6:00:00 AM | Special Guest |
| 6:15:00 AM | Special Guest |
| 6:30:00 AM | Vio Drums |
| 6:45:00 AM | Vio Drums |
| 7:00:00 AM | Vio Drums |
| 7:15:00 AM | Vio Drums |
| 7:30:00 AM | Vio Drums |
| 7:45:00 AM | Vio Drums |
| 8:00:00 AM | Vio Drums |
| 8:15:00 AM | Vio Drums |
| 8:30:00 AM | Vio Drums |
| 8:45:00 AM | Vio Drums |
| 9:00:00 AM | Movie – Jurassic Park |
| 9:15:00 AM | Movie – Jurassic Park |
| 9:30:00 AM | Movie – Jurassic Park |
| 9:45:00 AM | Movie – Jurassic Park |
| 10:00:00 AM | Movie – Jurassic Park |
| 10:15:00 AM | Movie – Jurassic Park |
| 10:30:00 AM | Movie – Jurassic Park |
| 10:45:00 AM | Movie – Jurassic Park |
| 11:00:00 AM | Bloodborne |
| 11:15:00 AM | Bloodborne |
| 11:30:00 AM | Bloodborne |
| 11:45:00 AM | Bloodborne |
| 12:00:00 PM | Bloodborne |
| 12:15:00 PM | Bloodborne |
| 12:30:00 PM | Celebrity Chef |
| 12:45:00 PM | Celebrity Chef |
| 1:00:00 PM | Celebrity Chef |
| 1:15:00 PM | Celebrity Chef |
| 1:30:00 PM | Ides of March Consequences |
| 1:45:00 PM | Ides of March Consequences |
| 2:00:00 PM | Ides of March Consequences |
| 2:15:00 PM | Ides of March Consequences |
| 2:30:00 PM | Dokapon Kingdom |
| 2:45:00 PM | Dokapon Kingdom |
| 3:00:00 PM | Dokapon Kingdom |
| 3:15:00 PM | Dokapon Kingdom |
| 3:30:00 PM | Dokapon Kingdom |
| 3:45:00 PM | Dokapon Kingdom |
| 4:00:00 PM | Dokapon Kingdom |
| 4:15:00 PM | Dokapon Kingdom |
| 4:30:00 PM | A Challenger Approaches |
| 4:45:00 PM | A Challenger Approaches |
| 5:00:00 PM | Blenderbat in : Escape from Rome |
| 5:15:00 PM | Blenderbat in : Escape from Rome |
| 5:30:00 PM | Blenderbat in : Escape from Rome |
| 5:45:00 PM | Outro |